What were your favourite childhood books?
I asked ten writers and bloggers to share what their favourite childhood books were, why they loved them and what special memories they associated with those books. Their answers provided a list of classic childhood reads. Did you love any of these books in childhood? What were your most loved books as a child? Perhaps you had one particular favourite book which has stayed with you over the years, either in your mind or as a battered, dusty copy like my The Wonderful Wizard of Oz?! Or perhaps you loved a series of books or had too many favourite books to choose one overall. Read our contributors choices and let us know which books you loved during childhood in the comments below.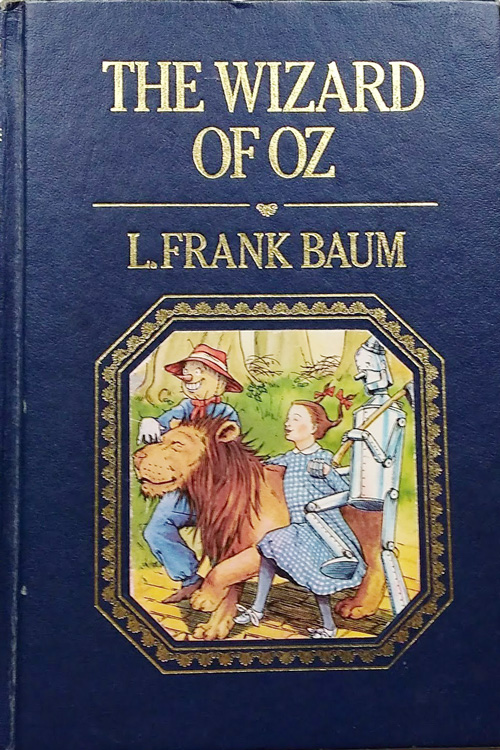 This post may contain compensated links. Read my disclaimer here
Whistle Up The Chimney by Nan Hunt
I have beloved memories of my mum reading me Whistle Up The Chimney, written by Nan Hunt and illustrated by Craig Smith (and published in 1981). It's a beautifully illustrated book about a lonely old woman who gets a delivery of fireplace wood that originated from some old trains. Something magical happens when she starts adding it to her fireplace in winter: trains start rumbling through her living room every time she lights a fire.
The memory of the sound each train makes came flooding back when I had my daughter. My mum managed to find a recent reprint and bought it as a gift for her. Just opening it up and flicking through made me feel about 4 years old again. Every time I read it to my girl, the sounds of each train roll off my tongue from memory alone, and I love every minute of sharing an important part of my childhood with her.
by Lisa Scott
Lisa is an avid reader, writer, maker and mum. She blogs at Make + Do a website about making the best use of what you have
The BFG by Roald Dahl
I was in the fourth grade when I first had The BFG read aloud to me by my then teacher. It was the first book that allowed me to get lost in my own imagination and I would lay awake at night wishing that a big friendly giant would pick me up and take me away.
I could relate to the protagonist, Sophie, a child mature for her age but still with the innocence of youth. I also loved the silly concepts throughout the book like weird smelling pickles, jars of dreams and all the made-up words which were made even funnier when my teacher said them aloud.
And of course, I loved the BFG. He was funny, charismatic, caring and he stood up for what he believed in which is important for kids to understand.
Like many children's books, the story touches upon complex ideas like empathy and the acceptance of differences in a simplistic and easy to understand way which is what makes it so great to read. It's a true adventure.
by David Hutchison
David writes at Paid Surveys Fanatic
Harriet the Spy by Louise Fitzhugh
My favourite book from my childhood was Harriet the Spy by Louise Fitzhugh. Like Harriet, I knew that I wanted to be a writer when I grew up. It was Harriet's journaling that led me to start writing my own observations down in notebooks and later, a little diary with a key lock. I have always had the fear that someone would one day find and read my journals, so I learnt to be cryptic when writing about certain topics and people from a young age.
As an adult looking back at this book, there's a Dangerous Liaisons (or Cruel Intentions) element to it, with Harriet's diary found and read by her classmates, leading her to become ostracised as a result. But Harriet learns the hard way that forgiveness and a new beginning start with an apology, and she applies her spying and writing talent to the school newspaper.
This book stuck with me like very few other books I grew up reading ever have. I can't wait to share it with my son in a few years when I so hope he'll love it as much as I did.
by Sandra Muller
Sandra is a content strategist by day and novelist by night. She blogs at www.thesmarterwriter.com
The Baby-Sitters Club by Ann M. Martin
The Baby-Sitters Club books were the first books I really fell in love with as a kid. I bought my first book with birthday money from my 8th birthday after pouring over the book club pamphlet we got from school and agonizing over my choice of book. Many more were to follow.
The girls in the books were only a few years older when I first started reading them and seemed like they had awesome lives to me. I wanted to be just like them. In fact, too much as at one point I made flyers to advertise my own baby-sitters club when I was only 9 and distributed them in letterboxes in my neighbourhood. My mother was not happy when a neighbor came and told her!
I also hid junk food around my room like one of the characters and tried to dress like them (although even then I did not understand how pink tracksuits were cool!).
They bring back happy memories of much time spent reading the books when I was a kid and I have just bought my daughter her first one for her 8th birthday this week.
by Sharon Gourlay
Sharon writes about everything Melbourne and Family at MelbourneFamily.com.au 
The Famous Five by Enid Blyton
The Famous Five books by English author Enid Blyton were my all time favourite books of my childhood. I was so addicted to the stories that I would finish one book in hours, keen to move on to the next story of the series. The books revolve around four kids; Julian, Dick, Anne, and Georgina (who loves to be called George) and Georgina's dog Timmy.
The kids would return from their boarding schools to spend the school holidays together and would stumble upon some kind of clue to a new adventure. Together they would head on an adventure where they would find a hidden treasure or find clues about a crime which would help police catch the culprits. Though dangerous, sometimes the kids would come out unharmed at the end of the adventure! That would sound like so much fun and thrills to us as kids. The first book in the series, Five on a Treasure Island, was published in 1942.
by Rashmi and Chalukya
Rashmi and Chalukya are travel bloggers from Mumbai, India. They travel as a family with their daughter who joined their travel trails from 6 months old
The Enchanted Wood by Enid Blyton
As a child, I loved how reading books allowed me to use my imagination and transport me to another world. Enid Blyton's The Enchanted Wood (originally published in 1939) introduced me to a world of magical trees, memorable characters and ever-changing worlds. The Enchanted Wood is the first book in The Faraway Tree series, with the others being The Magic Faraway Tree, The Folk Of The Faraway Tree and Up The Faraway Tree.
The story tells the adventures of Jo, Bessie and Fanny, who discover a magical tree in a nearby enchanted wood. In this tree lives characters such as Moon Face, Silky and Saucepan Man. At the top of the tree is a land, and this land rotates and changes on a regular basis. From the Land of Take-What-You-Want to the Land of Birthdays, the kids never knew what they'd find at the top!
My sister and I created our own magic faraway tree in our backyard- we transformed a large tree into our own creative world, complete with hanging oranges which were "magical lights". Reading Enid Blyton's books gave me the thirst to travel and explore our world and find my own real-life magical places.
by Natalie Alleblas 
Natalie is a Melbourne-based blogger and digital marketer with a passion for health, travel and helping others build online businesses. She writes at www.homehealthliving.com
Meet Felicity by Valerie Tripp
I adored reading as a child. I could sit for hours under the windowsill in my bedroom, listening to a rainstorm and burning through my current local library haul. As a kid, I went to the library so much that I memorized my library card number, and I can still recite it to this day! However, one set of books that I was glad to own was the American Girl books – since I read each one so many times that the binding on some of them fell apart.
The first one I ever got was Meet Felicity. I remember clearly because my mom gave it to me but asked that I not tell my little sisters that I'd gotten a present when they hadn't. Of course, I only kept my six-year-old mouth shut about five minutes before blabbing. I adored reading about Felicity's adventures in Williamsburg, and it made visiting Colonial Williamsburg a few years later that much more special. I highly recommend all the American Girl doll books for boys and girls to learn about history with a side of period-appropriate feminism.
by Stephanie Craig
Stephanie writes at History Fangirl
The Little Prince by 
The Little Prince, the simple story of a young boy who leaves his home to explore the universe, is now the most-translated book in history. Written in 1943, this timeless tale still offers much to readers today – both children and adults alike. Seeing the world through this innocent young prince's eyes is a truly eye-opening experience and one that is every bit as relevant today, when racial and class prejudices are still rife, as it was in the twentieth century.
Children will love this for the fun and exciting story but adults will appreciate this on a spiritual level. What is to a child – a happy tale – will one day, when they look back at it, reveal that with every passing day we have in fact become less and less wise. This is a book that I'll continue to treasure for the rest of my life and will be at the top of my list for books to read to my own children one day. Introduce your kids to the Saint-Exupery when they're young and they'll thank you in the decades to come. It holds so many important lessons for children and is not one to be missed!
by Laura
Laura is a culture, lifestyle & travel blogger at whatshotblog.com
Alfie Gets in first by Shirley Hughes
I really like children's books – while other first-time pregnant mums browse baby-gros, I was in the bookshop. But what did I like when I was the child?
My mum still shudders when she thinks of how often I asked for this book. It's part of the Alfie series which follows our eponymous protagonist going about his daily life. The real joy in these is that not a lot happens! Just enough to give a narrative arc to the tale but nothing out of the ordinary. Does the birthday boy acting up at his own party sound familiar? Or entering the school fair's art competition? It's the pre-schoolers' version of those real-life blogs us parents read voraciously.
Alfie Gets in First has that little bit more drama. It plunges Alfie into real independence when he gets locked in the house alone. With a growing crowd outside trying to help, will Alfie rise to the challenge or simply stand and cry? The answer, rather charmingly, is a bit of both. Being an independent-minded pre-schooler myself, this foray into adulthood really appealed. Who needs mum after all?!
by Gail, from Big Books for Little Hands.
Gail reviews all the children's books she loves and enjoys with her children at her blog Big Books for Little Hands.
A Bear Called Paddington by Michael Bond
While growing up, one of my favourite characters was Paddington Bear, the subject of A Bear Called Paddington and the ensuing series of books by British author Michael Bond.  He was also a fixture on BBC children's TV when I was growing up in the 1970s, so I got to see and hear him as well as read his books.
I was always charmed by this seemingly hapless Peruvian bear who had stowed away to London, and who seemed to wreak havoc wherever he went. I didn't read all of the Paddington books – I would sometimes borrow some from the local library, including Paddington Abroad, in which he plans the family holiday to France and accidentally wins a stage of the Tour de France!
It's been such a pleasure to revisit Paddington again the last few years after becoming a father myself. My son has had a Paddington Bear since he was a month old – he now has four – and they have been constant companions. I often read him Paddington books in the evening, and we've also watched both films a few times, and it's wonderful to see him get the same joy I did from this eccentric young bear.
by David Angel
David writes at travelwithlittleone.com 
The Wonderful Wizard of Oz by L.Frank Baum
I couldn't resist adding my own personal favourite book from childhood, The Wonderful Wizard of Oz. From a young age I was a big fan of the classic film starring Judy Garland. When my Aunt gifted me with a beautiful edition of the book I fell in love with the book too. The story of Dorothy's frightening yet magical adventure through Oz unraveled on the page. I was amazed at how many more intricate details and storylines were packed in the book. Not only that, but the Wicked Witch of the East's magic shoes, which Dorothy wears on her journey to the Emerald City and beyond, were not made of rubies as in the film, but were actually silver!
As a young reader, I began my own nerdy journey of comparing books with films as we fans often do. I concluded that even when a film is very different from its source book it can still be great, and occasionally even a great piece of art in itself. An opinion I usually (but not always!) stick to today.
While the book is an enduring children's classic, there are also lots of debates about Baum's intentions in the book. As a child, I was completely unaware of theories that the book was an allegory of American economic policy. Find out more about that and the significance of Dorothy's silver shoes here.
by Angela from readinginspiration.com
A big thank you to Lisa, David, Sandra, Sharon, Natalie, Stephanie, Laura, Gail, David, Rashmi and Chalukya for their time and contributions to this article!
Find the books discussed here:
Whistle up the Chimney
by Nan Hunt.
Illustrated by Chris Smith
Check out availability on Amazon here
The BFG
by Roald Dahl
Check out availability on Amazon

Harriet the Spy
by Louise Fitzhugh
Check out availability on Amazon here
The Baby-Sitters Club
by Ann M. Martin
Check out availability on Amazon here
Five on a Treasure Island by Enid Blyton
Check out availability on Amazon here
The Enchanted Wood
by Enid Blyton
Check out availability on Amazon here
The Little Prince
by Antoine De Saint-Exupery
Check out availability on Amazon here
Meet Felicity by Valerie Tripp
Check out availability on Amazon here
Alfie Gets in first
by Shirley Hughes
Check out availability on Amazon here
A Bear Called Paddington
by Michael Bond
Check out availability on Amazon here
The Wonderful Wizard of Oz
by L.Frank Baum
Check out availability on Amazon here
What were your favourite childhood books?
Which books provided your imagination with inspiration in childhood? What memories do you associate with them? Let us know in the comments below. And check out more great children's books here.
– Find out about lots more great books to read here at readinginspiration.com –
If you comment on this website your email address will not be published. Additionally, your comment data is never used for marketing purposes. Required fields are marked *
Your privacy is important to us: check out our Privacy Policy here to find out about how data protection is undertaken on this website.
Disclaimer: As an Amazon Associate I earn from qualifying purchases.
Angela Stapleford for Readinginspiration.com is a participant in the Amazon EU Associates Programme and the Amazon Associates Programme, affiliate advertising programmes designed to provide a means for sites to earn advertising fees by advertising and linking to Amazon.co.uk and Amazon.com