Find the best children's picture books from birth to five – and older!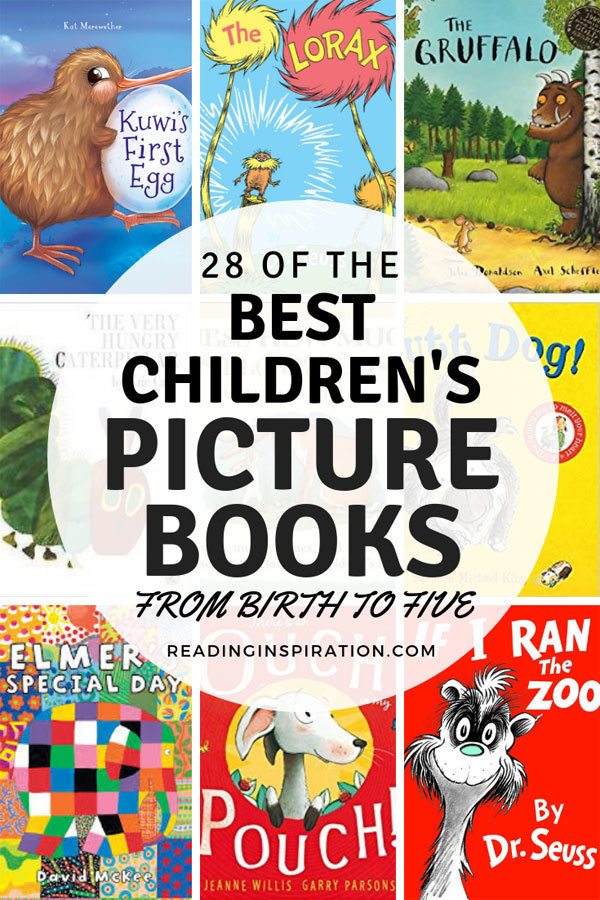 How the best illustrated children's books support your child's reading
In this guide you can find:
Picture books are a great way to start encouraging a child's love of reading and stories. This can start a long time before they are able to read independently or even recognise letters of the alphabet.
Reading out loud to a baby or toddler, and letting them turn the pages and enjoy the illustrations will help them to develop a love of books. And sharing picture books is a great way to encourage children's imagination and inspire them with exciting and fun stories.
It will also lead them to start to make connections between the sound of a word and the shape of it on a page. A skill which will eventually enable them to read independently.
Whether you are looking for the best children's picture books to read out loud to babies and toddlers, or books that children can begin to read for themselves, there are a huge number of wonderful picture books to chose from.
One of the great aspects of these stories for kids is that they are very age flexible. A book that can be read to a toddler can eventually be read by them and the enjoyment of the story and the illustrations will endure.
I asked writers and bloggers who have experience of reading with children – including teaching professionals and parents, to share their favourite children's pictures books, what they loved about them and their personal experiences of reading them with children.
Their suggestions included stories to read out loud to children, from relaxing bedtime stories for kids to activity based and laugh out loud funny stories for kids.  Early independent reading books for kids also made the list. One thing they all have in common is including beautiful children's book illustrations.
Our resulting guide lists some of the best children's books by age. These picture books are all roughly aimed at children from birth to five. However, the age guidelines are approximate and flexible and these books can often be enjoyed by older children (and adults) too!
This post may contain compensated links. Read my disclaimer here
A quick overview of the books featured
| Best kids picture books for ages: | 28 of the Best Picture Books for Children | Title and author | Check availability and prices of: |
| --- | --- | --- | --- |
| From Birth | | Baby's Very First Black and White Books by Stella Baggott | |
| 1+ | | Brown Bear, Brown Bear, What Do You See? by Bill Martin, Jr. and illustrated by Eric Carle | Brown Bear, Brown Bear, What Do You See? |
| | | The Very Hungry Caterpillar by Eric Carle | The Very Hungry Caterpillar |
| | | Ten Little Ladybugs by Melanie Gerth and illustrated by Laura Huliska-Beith | |
| | | The Going to Bed Book by Sandra Boynton | |
| 2+ | | Where the Wild Things are by Maurice Sendak | Where the Wild Things Are |
| | | Kuwi's First Egg by Kat Merewether | |
| | | Hairy Maclary from Donaldson's Dairy by Lynley Dodd | Hairy Maclary From Donaldson's Dairy |
| | | The Little Mouse, The Red Ripe Strawberry, and The Big Hungry Bear by Audrey Wood and illustrated by Don Wood | The Little Mouse, The Red Ripe Strawberry, and The Big Hungry Bear |
| | | There's An Ouch In My Pouch! by Jeanne Willis and illustrated by Garry Parsons | |
| | | Guess How Much I Love You by Sam McBratney and illustrated by Anita Jeram | |
| | | Dear Zoo by Rod Campbell | |
| | | The Snail and the Whale by Julia Donaldson and illustrated by Axel Sheffler | |
| 3+ | | All Better! by Henning Lohlein | |
| | | Lost and Found, by Oliver Jeffers | |
| | | Wombat Stew by Marcia Vaughan and illustrated by Pamela Lofts | |
| | | When I Dream of ABC by Henry Fisher | |
| | | The Gruffalo by Julia Donaldson and illustrated by Axel Scheffler | |
| | | Mutt Dog by Stephen Michael King | |
| | | The Pout-Pout Fish by Deborah Diesen and illustrated by Dan Hanna | |
| | | Elmer's Special Day by David McKee | |
| | | The Lighthouse Keepers Lunch by Ronda Armitage and illustrated by David Armitage | |
| | | The Little Engine That Could by Watty Piper | |
| | | Penguin's Big Adventure by Salina Yoon | |
| | | Beautiful Oops by Barney Saltzberg | |
| 4+ | | If I Ran the Zoo by Dr. Seuss | |
| | | And To Think That I Saw It On Mulberry Street by Dr. Seuss | |
| | | The Lorax by Dr. Seuss | |
Our full selection of 28 of the best children's picture books
Books for babies
Baby's Very First Black and White Books
by
Stella Baggott
Research shows that being read to from an early age will set your child up for more success in their future education. Even from birth, baby can pick up the soothing intonation of your voice as you read the words aloud.
I am passionate about reading and keen to pass this love of books on to my son, so I was delighted when I found these little books by Stella Baggott from Usborne. I got them when Rowan was about three months old and I found at this age he really started responding to them.
These books are designed for very young babies with highly contrasted images and colours. A newborn's eyes can see strong contrast more clearly so black and white is the obvious palette to use to catch their eye. They are small and made of cardboard so I can hold them in front of Rowan easily where he can focus on them.
There are words to accompany the images so I either read the words out loud or I invent a story to connect one image to the next. As well as feeding his young mind, these books also provide a great distraction when Rowan might otherwise want to tantrum!
– Find lots more great books for all ages here at readinginspiration.com –
If you comment on this website your email address will not be published. We never use your comment data for marketing purposes. Required fields are marked *
Your privacy is important to us: check out our Privacy Policy here to find out about how data protection is undertaken on this website.
Disclaimer: Angela Stapleford/Readinginspiration.com is a participant in the Amazon EU Associates Programme, an affiliate advertising programme designed to provide a means for sites to earn advertising fees by advertising and linking to Amazon.co.uk.