My Brother is a Superhero is a great superhero kids book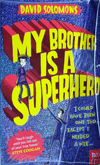 My Brother is a Superhero by David Solomons
Nosy Crow, 2015. Pages: 320.
Genres: Children's fiction / Action & Adventure /Humour
We rate it:
(4.5 / 5)
Buy now from:
Amazon
Waterstones
"Luke's in his tree house with his older brother, Zack, but he needs a wee. When he gets back, his undeserving, never-read-a-comic-in-his-life brother has been given superpowers and told to save not one, but two, universes."
Well-worn kids superhero books are a great sign
The My Brother is a Superhero book comes highly recommended by our household. You can tell how much we love this superhero kids book by how shabby our copy is. The spine is creased, there is wear and tear around the edges of the cover. The cover is actually breaking loose from the spine. The book has been well read, several times over. If you like to see pristine books look away…
This post may contain compensated links. Read my disclaimer here
My Brother is a Superhero review
My son (nicknamed Toothy) first read My Brother is a Superhero by David Solomons about two years ago. Since then Solomons has added two sequels to the story of Luke Parker and his older brother to create a fantastic superhero book collection. My Brother is a Superhero is the kind of book that kids will enjoy going back to and reading over and again, especially after reading the sequels. Toothy enjoyed looking back, re-reading over and over, and finding references to the events of the sequels in the first book.
Superhero sibling
The title lays out the premise of the book. Luke is a huge fan of superhero book characters and narrates the story from his point of view. His older brother Zack becomes a superhero when alien, Zorbon the Decider, gifts Zack with heroic powers.
Younger brothers and sisters may find the book particularly relatable if they have ever felt like they live in the shadow of their older siblings. Girls and boys who love comic books and all kinds of superheroes will also love My Brother is a Superhero. The book frequently references well-known heroes and science fiction tropes. It is particularly rewarding for young readers who pride themselves in knowing their superhero lore and legends.
The humour of the book means it's a great way into fiction for reluctant readers, it's an amusing book for kids to take turns reading with an adult.

As Zack – aka Star Lad – learns how to cope with his powers, Luke keeps his brother's secret identity safe. But when the mysterious threat of Nemesis looms over the earth and Zack goes missing he must reveal his brother's secret to his friends Lara and Serge.
Having read this alongside Toothy, my only reservation as a parent is the occasional assumption that being interested in superheroes is mostly a boys world. I know many young heroines who love superheroes just as much as boys do. However, the final scene of the book provides hope that superpowers are for girls too!
Despite this reservation, this is a great book. It's funny and gripping as Luke and his friends persevere in saving the world despite not having superpowers themselves. The book is able to keep up a witty and engaging pace even when it deals with the sad and frightening prospect of the end of civilisation!
Age range
Toothy first read this aged 8, but he is getting more out of it a few years later, especially as he has been gaining more nerdy knowledge of heroes and can reel off endless facts about Spider-Man, Iron Man etc.
Depending on readers interests and needs this book should be great for kids from 8-12.
If your children like this superhero kids book…
They will most likely be keen to read the My Brother is a Superhero sequels – My Gym Teacher is an Alien Overlord, My Evil Twin is a Supervillain and new for 2018, My Arch-Enemy is a Brain in a Jar. My son has loved all of these.
In My Gym Teacher is an Alien Overlord Luke has to act fast when aliens disguised as gym teachers threaten to invade earth for the purposes of intergalactic reality TV entertainment. In My Evil Twin is a Supervillain Luke's – you guessed it – evil twin has devious plans. In My Arch-Enemy is a Brain in a Jar, Luke finally gets to try out having superpowers himself, which is fortunate because the world's safety is under threat yet again! In the latest 2019 edition to the series, My Cousin is a Time Traveller, Luke's time-travelling cousin has surprising news. She warns Luke about the plans of appliances which threaten the future of humanity, and which also threaten the future of Luke's family!
The My Brother is a Superhero series so far
Young fans of all the best superhero books might also love hero fact books like those features in our Marvel gift guide. Check it out here. Fans of funny books may also be interested in the Tom Gates book series. Read all about them here. And you can find lots more fantastic books for children that we love and recommend here.
Happy reading! Whose your kid's favourite superhero? Let us know in the comments below.
– Find lots more awesome books for kids here at readinginspiration.com –
If you comment on this website your email address will not be published. Your comment data is never used for marketing purposes. Required fields are marked *
Your privacy is important to us: check out our Privacy Policy here to find out about how data protection is undertaken on this website.
Disclaimer: As an Amazon Associate I earn from qualifying purchases.
Angela Stapleford for Readinginspiration.com is a participant in the Amazon EU Associates Programme and the Amazon Associates Programme, affiliate advertising programmes designed to provide a means for sites to earn advertising fees by advertising and linking to Amazon.co.uk and Amazon.com