For a kids' picture book with a positive message try The Pirates Next Door
The Pirates Next Door starring The Jolley-Rogers by Jonny Duddle
Templar Publishing, 2011. Pages: 36.
Genre: Children's Picture book. Approx. age: 5+
We rate it:
(5 / 5)
Buy now from:
Amazon
Waterstones
"When pirate family the Jolley-Rogers move to Dull-on-Sea, rumours of shocking behaviour start spreading around the town. Only little Matilda can't wait to meet the fascinating new family next door!"
If you are looking for a fun picture book with a positive and thoughtful message The Pirates Next Door is a good choice. This month's featured children's books was a big favourite for bedtime stories when my son was younger. If you grew up in a sea-side town like myself, you too might find Dull-on-Sea very familiar. The town is affectionately portrayed. But it is "too busy in the summer… and in winter it shut down".
This post may contain compensated links. Read my disclaimer here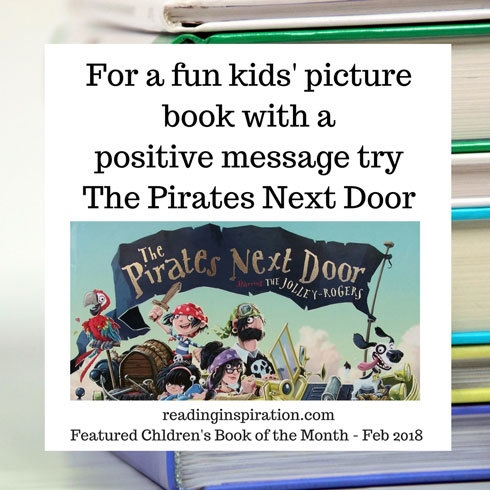 The Pirates Next Door
Tilda is one of the few children in Dull-on-Sea all year round, and she hopes that a family with a child will move in next door so she can have a friend to play with.
The Jolley Rogers – nightmare or dream neighbours?
Tilda is delighted when a new family does move in. But they are not like most families; they are the Jolley-Rogers. The pirate family have even brought their huge ship with them to be fixed. Tilda becomes firm friends with the pirate boy Jim Lad. Unfortunately not everyone from Dull-on-Sea is so happy with the new additions to the town. Tilda's parents wish she would be friends with "NORMAL boys and girls". Neighbours complain about the habits of Jim and his pirate family. Their life-style appears to be strange to the residents. And so the Jolley-Rogers are not welcome in the small town.
What we loved about The Pirates Next Door
Reading this picture book with my then five-year old, we loved the funny dialogue of The Pirates Next Door. Jonny Duddle's illustrations are also fun and full of humour. The story is a witty way of approaching small-town attitudes. It encourages having an open mind about people who are different from ourselves. This positive message comes across in a lighthearted way.
The residents of Dull-on-Sea are in for a surprise at the end. There is a great fold-out section, making the book an active hands-on read for children. The fold-out pages reveal a plot-twist that shakes up the expectations of the pirate's neighbours.
Who will enjoy this picture book?
I'd recommend this book for any children around 5 years and a bit older. Children who enjoy books with bright detailed illustrations and children who love pirates will particularly love it. This is a picture book that can be re-read often by children and parents together. With short pieces of text and a snappy story, it is the perfect length for a bed-time read.
Jonny Duddle
The author and illustrator of The Pirates Next Door grew up in North Wales. Jonny Duddle has created a number of children's books, including The Pirate-Cruncher, another great picture book that we enjoyed. Children can enjoy looking out for familiar characters that appear in both books.
Duddle has also written and illustrated chapter books about the characters from The Pirates Next Door. Their ongoing adventures in books like The Jolley Rogers and the Ghostly Galleon are great follow-ups for progressing readers who love pirates. These books are longer and have more text than the picture books but still have a lot of fun illustrations to break up the text.
Duddle has also been busy illustrating the covers of the children's editions of the Harry Potter books. It was fun to recognise his distinctive drawing style decorating the covers of some of my son's more recent reads.
Over to you
Have you read The Pirates Next Door? What did you think? What are your best-loved pirate books or picture books? I'd love to hear your views in the comments below.
And if you'd like to get a copy of Jonny Duddle's The Pirates Next Door it is available from many booksellers including Amazon via this link.
– Find lots more fun books to read here at readinginspiration.com –
If you comment on this website your email address will not be published. Additionally, your comment data is never used for marketing purposes. Required fields are marked *
Your privacy is important to us: check out our Privacy Policy here to find out about how data protection is undertaken on this website.
Disclaimer: Angela Stapleford/Readinginspiration.com is a participant in the Amazon EU Associates Programme, an affiliate advertising programme designed to provide a means for sites to earn advertising fees by advertising and linking to Amazon.co.uk.