Ten children's books series that are great to re-read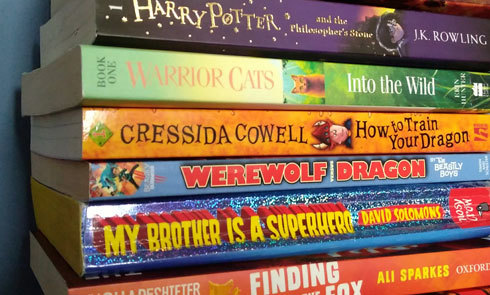 This post may contain compensated links. Read my disclaimer here
In this post I want to share recommendations of some great children's books series that my son is currently or has recently been re-reading. These are tried and tested great children's books to get stuck into, read and re-read over and over.
The adventures of re-reading children's books
There are many benefits for children in re-reading the same books. As well as helping to grasp vocabulary, fluency and confidence, it's a great way for kids to unpick narratives and become really enthused about characters and worlds. This can especially be the case with re-reading books from a series of children's books.
Books in a series can be great for a child's reading. Once they have become enthusiastic about one book, the enthusiasm to keep reading is stoked by moving on the next book. And by then re-reading the series, a child might pick up on connections between the books. They may feel rewarded when they notice a reference back to another incident or theme in the series. Their enthusiasm for the books, the narrative, the characters, and for reading in general can only grow.
Enthusiasm for mystical creatures
My son (nickname Toothy), is currently re-reading the children's books from The Beastly Boys' Beastly Business series. These great adventures, starting with Werewolf versus Dragon feature a boy called Ulf who happens to be a werewolf. Ulf works with the RSPCB (the Royal Society for the Prevention of Cruelty to Beasts) protecting endangered beast species. The wondrous beasts are often threatened by those who would profit from and harm them. While connecting with children's enthusiasm for mystical creatures, the books also imaginatively create a metaphor for the way wild beasts can be endangered by humanity.
Toothy started reading these books a few years ago after choosing one at a local book shop. He used his World Book Day token to buy it then. Since then we have found second-hand copies of other books in the series.
Werewolf versus Dragon is available from Amazon here.
Viking history and mythology in children's books
My son is also re-reading a newer favourite, Magnus Chase and the Ship of the Dead by Rick Riordan. He is on his second read through of this epic adventure. This is the third book in the Magnus Chase series about a teenage boy whose family life revolves around the mythology of ancient gods. With guest appearances from Percy Jackson and Annabeth Chase, these books also reward long-term fans of Rick Riordan's heroic fiction. Readers who started with Percy Jackson and the Lightning Thief can graduate through the series of books about myths and legends which become more advanced reading as the narrative progresses.
Based on myths and legends from ancient cultures; the books also feed an interest in myths, legends and the beliefs of historical people. My son's current interest in the Magnus Chase series is complimenting his learning at school. It's feeding his enthusiasm and interest in Viking mythology. As luck would have it he's currently working on Viking history at school and writing his own version of a Viking myth. It's great when education and fiction come together like that.
All three of the Magnus Chase series books are now available in paperback from Amazon following these links. Magnus Chase and the Sword of Summer, Magnus Chase and the Hammer of Thor and Magnus Chase and the Ship of the Dead
Are children reading at the right level?
One interesting aspect of the two books featured here is that they could be considered to be pitched at different reading levels. The Magnus Chase series has more complex language and plot than the Beastly Business series; yet the same child can happily read both of these books at the same stage of his age and education.
Should we worry about whether our children are reading above or below their correct level? Parents are often faced with concerns like this about their children's reading. While it can be good to encourage children to read more challenging texts, arguably this should not be the main concern. Are they enjoying what they are reading? This could be a more important question than asking are they reading at the right level. Reading as wide a variety of books as they like is great for children. Allowing them free reign of choice on what to read is always going to be a good way to encourage pleasure in reading.
Children's books series can be great value for money too
Another great reason for offering a series of books to your children is that if the books have been available a while, it is often possible to buy full sets for much less than when the books were first released and available singly. Where possible I have provided links to full sets of the book series. But remember it's worth having a look around to see if cheaper options are available, for example in second hand outlets.
More children's book series ideas to try:
The Shapeshifter series by Ali Sparkes
Read Toothy's opinion of this enticing series here.
It's available on Amazon here.
My Brother is A Superhero, by David Solomons
Followed by sequels My Gym Teacher is an Alien Overlord and My Evil Twin is a Supervillain. These books have been re-read so much by my son that our copies are quite worn out!
Available on Amazon here.
The Warriors series by Erin Hunter
These books follow the adventures of cat clans. This series of books really fed my son's imagination as he began to create his own story about the adventurous past of our own dear cat.
Available on Amazon here.
The first book about dragon trainer Hiccup were followed by eleven more books and told an increasingly exciting story. This was one of the first series of books my son really got into. It's an amazing adventure with charming and funny character's (as well as nasty ones!) and plenty of laughs and excitement.
Available on Amazon here.
Harry Potter and the Philosophers Stone etc, by J.K. Rowling.
Of course this series is well-known and the list could not be complete without it!
Available on Amazon here.
Tom Gates series of books by Liz Pichon
This series comes highly recommended by my friend's children!
Available on Amazon here.
The Beast Quest series by Adam Blade
This series is a great introduction to chapter books for younger readers. The fast paced exciting adventures will help the pages keep turning. There is a huge number of books in this series, each book is self-contained so readers can really start anywhere.
The first series is available on Amazon here.
The Alex Rider series by Anthony Horowitz
These books follow the adventures of a teenage spy. My son has recently picked up these books from the school library and has quickly become a fan.
Available on Amazon here.
Which children's books series have your kids loved that have got them turning back to the pages for more reading fun? Let us know in the comments below.
If your children love magical or adventurous books like these they might also be excited to here about these new releases of fantasy books for kids for Spring 2018.
– Find lots more fantastic reads for children here at readinginspiration.com –
If you comment on this website your email address will not be published. Additionally, your comment data is never used for marketing purposes. Required fields are marked *
Your privacy is important to us: check out our Privacy Policy here to find out about how data protection is undertaken on this website.
Disclaimer: As an Amazon Associate I earn from qualifying purchases.