Tom Gates books – laugh out loud adventures for your kids
I am really pleased to introduce our first guest contributor – Anna. She would like to recommend a series of kids books that has been appreciated and enjoyed in her family by her son "Bee" and previously by his older sister. We also hear from Bee on why he loves the Tom Gates book series.
"They are interesting. I like how he does cheeky things, how he follows his dreams cause he plays in a band." – Bee, 8.
This post may contain compensated links. Read my disclaimer here
The world of Tom Gates book series by Liz Pichon came into my kids lives a few years ago. The books were introduced to us as good for children with reading difficulties. My daughter who is now 12 has left them behind. I can confirm that while my son was still being given very simple books by his teacher, he was able to read them since he was 7 (he is now 8).  We have made a gradual transition from sharing the reading to me just helping with occasional words. Each page does not have many words on it and so pages turn at a satisfying rate.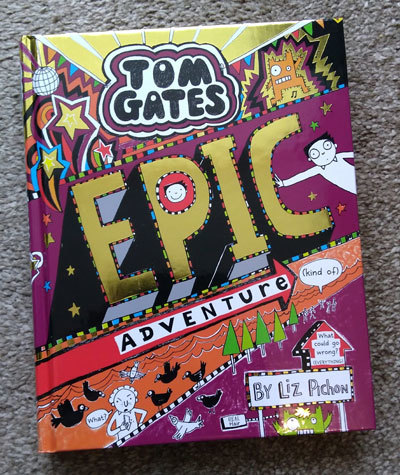 School adventures with Tom Gates
Each book in the series centres on a week or so of Tom's life where he goes to school and a close shave adventure happens. Tom lives in a traditional nuclear family – he has one older sister who is a teenager and they 'hate' each other. Tom has a band, plays guitar and likes drawing. Most of the story revolves around things that happen at school. There are teachers he likes and doesn't like, and children who he has difficult relationships with as well as his mates. The books are filled with jokes and really dynamic illustrations.  My son will laugh out loud.
Tom grows up in each book and the vocabulary develops. Liz Pichon has added to the collection since my daughter stopped reading them. We have read the first six not always in the 'right' order and it doesn't matter. Each book is complete and stand alone so it's easy access, kids can dip in and out. This is useful when books are picked up at random at the library.
As a parent I like the Tom Gates books because:
– it's an easy dress up for world book day at school (great for us lazier mums!)
– my son feels like he has caught up with his friends as he can achieve reading a book with over 100 pages
– watching your child laugh and then share the joke with you is a joy
– we have been happy to recommend the books to friends.
Anna
– Many thanks to Anna for her review and recommendation of the Tom Gates book series. Check out Amazon's buying options for the Tom Gates books here.
We've also reviewed Tom Gates: Family, Friends and Furry Creatures here.
What books make your kids laugh out loud?!
Here at Reading Inspiration we love to provide personalised reading tips and ideas, so you know that the books we recommend are tried and tested. We are always on the look out for recommendations and love to hear from other children and families. What are your favourite reads? Please mention your reading recommendations in the comments. Contact us directly if you would like to write a full review.
– Find lots more fun books to read here at readinginspiration.com –
If you comment on this website your email address will not be published. Additionally, your comment data is never used for marketing purposes. Required fields are marked *
Your privacy is important to us: check out our Privacy Policy here to find out about how data protection is undertaken on this website.
Disclaimer: Angela Stapleford/Readinginspiration.com is a participant in the Amazon EU Associates Programme, an affiliate advertising programme designed to provide a means for sites to earn advertising fees by advertising and linking to Amazon.co.uk.