Welcome to Reading Inspiration – a book blog for families
About the writers
I'm Angela, a fan of fantasy and science-fiction and a parent of a book-loving child. I've put together this blog as a place to share our book love, write about the reading we find inspiring and to provide a resource for other families. This includes support for if you are worried about your child's reading progress.
If you are looking for fantastic reading for yourself or your children you are in the right place! Reading Inspiration contains reviews and recommendations of great books both for children and their parents. If you would like to get a quick overview of the blog contents – click here. Or if you would like to find out more about this blog, its writers, and why we started it, keep reading below…
JOIN US – subscribe for updates & receive our FREE Library Reading Activity
About us – Angela and Toothy
I'm Angela and I absolutely love books, reading and writing. I grew up dreaming of living in a bedroom made up of wall-to-wall bookshelves – my very own library! I love finding and exploring new books, reading with my son and stealing (borrowing) his books. I enjoy a wide range of book genres. My favourite reading materials include sci-fi, speculative fiction, fantasy, drama, classics and graphic novels.
I have a background working in adult education training school support workers. I've also worked with children, delivering creative workshops. I've previously worked in the arts, photography and publishing. I am Hufflepuff through and through.
Who's Toothy?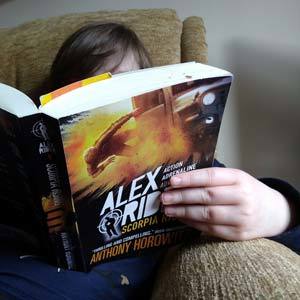 Toothy is my son's nickname. He is a fan of Minecraft, Lego and action and magical fantasy books. He is mentioned often and contributes much inspiration to this blog. Due to his age range, many of the children's books I discuss or review are middle-grade fiction. However, I do branch out and cover other age ranges, from picture books to YA fiction. Toothy is house Ravenclaw.
Why write a book blog?
I write and put together this blog because I want to share my enthusiasm for books and hear more from others about the books they love. As well as enjoying reading myself, it makes me so happy to hear my child rave about the latest adventures and plot twists he has read in a book.
Like a lot of families, ours has had its ups and downs with reading. But in the end, we have come to the conclusion that it is best to take the stress out of reading and enjoy the fun and pleasure that books bring. That is a message that I think is so important to share.
Concentrating on the love of books and reading
At the heart of this blog is encouraging a love of books in children. This means keeping the enthusiasm for books alive, always finding exciting new books to read, and offering children a lot of reading options. This way, ultimately they can find their own way to the reading that they love.
A book blog for parents and kids – made by parents and kids
This blog features recommendations and reviews of some of our favourite kids' books and tips on encouraging and supporting children's reading. I also review and recommend books for us grown-ups to escape and unwind with. When we are worried about our children's reading it can be easy to forget about our own reading. And did you know that children who see their parents and carers reading are more likely to want to read themselves? So taking that time for yourself to enjoy a good book is great for your kids too! It doesn't matter what you read, whether you love graphic novels, classic fiction or a grim dystopian read, it's all good!
I hope you will also want to share your tips on reading with your family and having fun along the way. It would be great to hear what works for you and what you're reading and enjoying.
Age guidelines
I agree with the points made by many authors including Philip Pullman, that age banding of books is not always helpful. However, parents and others looking for books for children often find age guidelines helpful. I may add age-appropriate guidelines to book reviews and features to help you find suitable books. But always keep in mind that these are flexible and that all children develop their reading skills and abilities at different rates. For example, a 10-year-old may well pick up and enjoy a book that falls into a 7+ category, and there is no harm there. Try not to be restricted by these guidelines.
Review requests
I am not currently able to accept or respond to review requests. Please see my Review Policy for more information.
Any questions?
This blog is a personal blog written and edited by me. For questions about this blog, please contact me by emailing  readinginspirationblog@gmail.com