Book review: Stormbreaker – the first Alex Rider action-packed adventure
Stormbreaker, Alex Rider, Book one
 by Anthony Horowitz
Walker Books, 2000. Pages: 238.
Genres: Children's fiction / action and adventure. Approximate age: 9+
We rate it:
(4.5 / 5)
Buy now from:
Amazon.co.uk
Amazon.com
Abe Books
"When MI6 recognizes his potential, Alex Rider is armed with secret gadgets and sent on his first mission. But the teenage spy soon finds himself in mortal danger."
Book review by Toothy, age 10
I am only ten so this might not be that descriptive, just thought you should know that. (Don't worry Toothy, you are doing great). So this review is about the Alex Rider book series  by Anthony Horowitz. There are eleven books in the series so far. This review will cover the first book.
This post may contain compensated links. Read my disclaimer here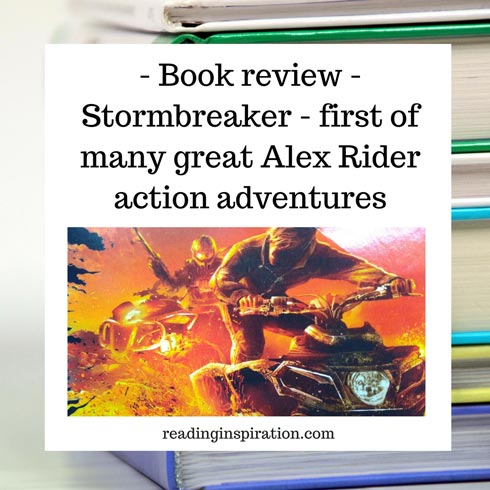 Stormbreaker – Alex Rider, book one
The first book in this series brings you into a whole new world of spies – actual licensed teenage spies. In this book we are introduced to a fourteen year old boy named Alex. His mother and father both died in a plane crash when he was a baby, you might be thinking how did Alex survive? Well the simplest thing – he had an ear infection so he couldn't go on the flight. So now Alex lives in Chelsea with his uncle Ian Rider and his house keeper Jack Starbright. His uncle is a bank manager and is never at home so Alex doesn't know much about his job.
But one day Alex is surprised to hear that his uncle has died in a car crash and had not been wearing his seat belt at the time. But Alex knows better – his uncle never took his seat belt off whilst in the car. On the day of the funeral Alex meets the head of the bank his uncle worked for, Alan Blunt. He finds out the manager's driver is carrying a gun. Alex then sees a truck outside his house. Alex follows the truck to a car compactor. There he finds his uncle's car and sees that it is riddled with bullet holes! After a daring escape from the car crusher Alex gets to show off his first grade Dan (black belt) karate skills.
Gruelling spy training
The next day Alex gets an invitation to the bank at Liverpool Street. Alex is then kidnapped and the truth is revealed… his uncle had been a spy and had also been training Alex his whole life! After a gruelling two weeks of training Alex is sent on his first mission to infiltrate Herod Sayle's factory in Cornwall. There Alex finds out who murdered his uncle and many more secrets. The story comes to an exciting finale including a dramatic scene at the Science Museum. After a week of action, injury and pain, Alex realises that being a spy isn't everything it's cracked upped to be and vows never to work for M.I.6 again.
That didn't work out so well did it?!
I really liked the action of the books, but it made me think about how it is not just fun and exciting being a spy, but it could really hurt you. It tells the story realistically about how Alex feels. I recommend this book to kids who like spies and action.
About the author – Anthony Horowitz
As a child Anthony Horowitz always wanted to be a writer. Before he wrote Alex Rider, Anthony wrote a lot of other books such as Groosham Grange and Enter Frederic K. Bower which was published when Anthony was 22. I read about this in a book I borrowed from the library about the author, Anthony Horowitz: Creator of Alex Rider.
by Toothy, 10
Further information
Note on content
Parents should be aware that as an action-packed adventure Stormbreaker does contain violence. However, the realistic depiction of violence as extremely damaging helps the reader to understand it's negative impacts.
Over to you
Have you read Stormbreaker or other titles in the Alex Rider series? What did you think? What are your favourite children's action books? Toothy and I would love to hear your views in the comments below. If you are looking for great middle-grade fiction check out more books here.
If you liked this…
If your children love the heroic adventures of Alex Rider books they may also be interested in hero stories. Check out our Marvel heroes books and gift guide here.
– Find lots of exciting reads at readinginspiration.com –
If you comment on this website your email address will not be published. Additionally, your comment data is never used for marketing purposes. Required fields are marked *
Your privacy is important to us: check out our Privacy Policy here to find out about how data protection is undertaken on this website.
Disclaimer: As an Amazon Associate I earn from qualifying purchases.
Angela Stapleford for Readinginspiration.com is a participant in the Amazon EU Associates Programme and the Amazon Associates Programme, affiliate advertising programmes designed to provide a means for sites to earn advertising fees by advertising and linking to Amazon.co.uk and Amazon.com